Travertine tile is one of the most popular natural stone options for the home, making for a strong, durable and incredibly long lasting finish that is suitable for use as a flooring solution or as a wall tile. Travertine is a naturally occurring stone, most famous for its soft and warm creamy tones. This material is a popular choice for country style interiors, Tuscan inspired design schemes and home designs that are heavily inspired by the colours and textures of nature.
What is Travertine?
Travertine is a natural stone formed by mineral deposits from natural springs. It is a type of limestone that is incredibly hard, dense and durable, making for a long lasting design solution that is especially popular for use as a floor tile thanks to the product's immense strength and longevity. There are a few naturally occurring colours available in travertine with the most common being sandy, creamy tones to deeper taupe colours and even light grey or off white options.
How to use Travertine Tiles in the Home
Travertine tiles can be used throughout interior and exterior residential spaces in many different ways, allowing you to create a warm and comforting aesthetic in the home. It is important to note that when you are selecting floor tiles for external applications that you select from collections that are specific to outdoor areas as these will be the most suitable for exposure to the elements while also providing a grip-like surface finish that is safe for use in outdoor areas.
Creating Patterns with Travertine Tiles
Travertine tiles are available in a range of classic shapes from squares and rectangles to timeless subway tiles. In certain collections, you have the option of mixing and matching these different shapes to create a stunning pattern in your next interior design project; for example, square shaped tiles can be combined with large rectangular tiles to create a stylish pattern of interlocking shapes.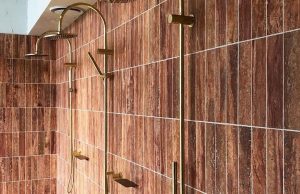 Caption: Deep red and brown travertine tiles are used in this luxurious bathroom, creating a striking design element that is perfectly complemented with gold accents. The travertine subway tiles are vertically stacked in this installation, creating a sense of added height in the bathroom's design.
Subway tiles are even more flexible when it comes to creating a variety of patterns in your design scheme as their small, simple shape can be easily used to create different tile layouts. Creating the popular herringbone tile layout for example is simple when using subway tiles. These tiles can also be used in a basket weave style, a classic brick bond look or can even be horizontally or vertically stacked for a dynamic grid-like look in your project.
Selecting Travertine Tiles
As discussed above, you will find many different options available when it comes to selecting travertine tiles in both indoor and outdoor tile varieties. Communicating your intended application to your tile consultant is crucial when selecting your new tiles as they will be able to recommend options that will be the most suitable. For example, if you are on the hunt for outdoor tiles, ensure this is specified when making your tile selections so you can be certain that your new travertine tiles are suitable for use in outdoor spaces. Thankfully, the immense strength and durability of travertine allows its use in many different ways throughout the home, from indoor and outdoor spaces to floor and wall applications so you are sure to find the perfect fit for your intended application.
As there are a few different naturally occurring colour options available in this luscious stone, having a clear idea of what type of look you are after in your home will of course, also play a role in your final decision. Travertine tile options vary from deep, warm taupe tones to soft, sandy hues and even white/grey options, allowing you a flexible choice in neutral colour options for the home. In general, you will find that the white travertine options will suit a modern or contemporary styled home best as they will effortlessly complement a range of materials that often are included in these styles of interiors (such as concrete, timber etc.) Brown toned travertine tiles are best suited to classically styled interiors as they add a rich and warm atmosphere.
Caption: White or grey travertine tiles provide the perfect neutral backdrop in a modern or contemporary styled home. The wonderful texture provided by these elegant tiles will instantly add a touch of warmth and charm to your interior design scheme.
Selecting Grout for Travertine Tiles
Selecting grout types and colours is a crucial step in the design process that should not be overlooked. In general, most travertine tiles are best suited to traditional cement based grouts. Tile grout can be made in a range of different colours to help you create the exact look you are after in your home. If you are looking to create a more seamless look (ideal for large format floor tiles and outdoor tiles for example), then using a grout colour that will complement and tie in with the main colour of your tiles will be the perfect choice. If instead you are looking to emphasise a unique tile pattern (such as the popular herringbone tile layout for example) then using a contrasting coloured grout will expertly highlight the pattern.
If you are looking for inspiration and a realistic representation of what grout colours will match with your new travertine tiles, you will want to pay attention to the grout colour that has been used in the tile shop display – These colours have been expertly selected to create the most stunning visual possible in their display!
Care and Maintenance of Travertine Tiles
It is important to note that as travertine tiles are a natural stone product, they are porous in nature and as such can be susceptible to staining or discolouration if not cared for properly. The pores in the stone can absorb liquid or powder spills which in turn can lead to marking of the natural product. To protect your new travertine tile floor or wall tiles, a quality tile sealer should be used at installation of your tiles and then every few years or so thereafter. Quality cleaning products that are specific to natural stones should also be included in your maintenance routine in order to best ensure your new tile's longevity in the home.
Caption: If the care and maintenance recommendations of natural travertine tiles are simply not a great fit for your lifestyle, you can still include this exciting material in your home! Porcelain tiles can be created in a vast range of designs, from marble or timber look tiles and of course, travertine look tile options as well! Unlike natural travertine stone tiles, porcelain replicas will not require the same level of care as the surface is non-porous and stain resistant, making them an ideal solution for busy homes!
Travertine tiles have long been a favourite choice for the home, whether used in warm taupe tones or soft grey and whites. These tiles will provide a long lasting finish in the home and are both flexible and durable enough to be able to be used in many different applications throughout interior and exterior spaces.